Will you ask your Hills District hair stylist for the latest, stunning Balayage technique?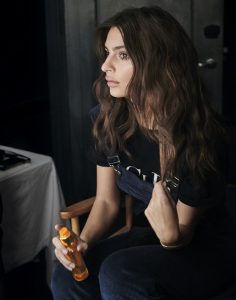 It's been a few years since balayage became one of the most popular hair colouring techniques among Australian women. Its ongoing popularity can be attributed to the fact it's one of the most effective ways of achieving an effortless sweep of lighter colour at the ends of the hair, subtly blending into a perfect gradient up towards the roots with no detectable lines as the colour darkens.
If you're a fan of the balayage effect, why not shake up your look with a twist on the original colouring process? It's an exciting approach to balayage that Hills District hairstylists are increasingly adopting – the reverse balayage!
WHAT IS REVERSE BALAYAGE?
Reverse balayage is when the lighter colour is at your roots and it gradually darkens down to your tips, which will be the darkest shade. Although any colours can be used, balayage works best when the base and secondary tone complement your skin tone and eye colour. This colour technique is the perfect option if you love the traditional balayage look and perhaps want to try something different.
WHAT YOU NEED TO KNOW BEFORE GIVING IT A GO
Reverse balayage requires more maintenance than the traditional colour treatment because with the lighter shade at the roots rather than the tips, dark regrowth will be obvious. You'll need a touch-up every couple of weeks or so.
But if you don't mind that, this technique is a great choice if you have naturally light hair and want to experiment with colour without having to make a full commitment to a darker shade. If you get tired of the look, all you need to do is let the colour grow out naturally or cut your hair.
Warning: be prepared to turn heads with this look, as it's bolder and edgier than its predecessor.
WHERE TO GET REVERSE BALAYAGE?
Want to try out reverse balayage? It's a simple look but does require expertise, so make sure you choose the right salon. Request a consultation with the colourist and don't be afraid to ask questions. They should be able to advise you on the best colour combination for your skin tone, eye colour and hair type.