A PERFECT FUTURE FOR THE
BEAUTY OF YOUR HAIR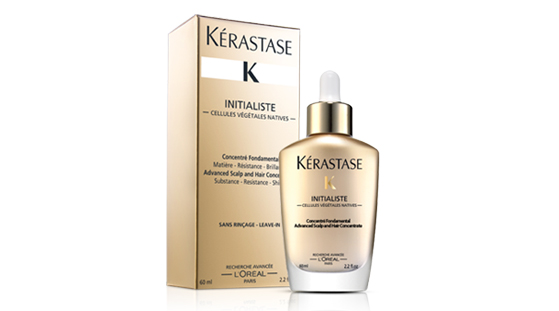 Kerastase invents the 1st* serum to create beautiful hair at its source.
With INITIALISTE, revealing a more beautiful hair fibre is now possible.
BENIFITS 
– Visible results within 7 days
Hair feels thicker and fuller to touch
Hair has more shine and elasticity
– Within 1 month
Reduces hair breakage by 93%*
Hair quality is significantly improved
Hair is stronger from the root
*Reduction of 93% of hair breakage with the application of a Kérastase Bath and Initialiste compared to the application of a Kérastase Bath only.
APPLICATION
– After the recommended Kérastase bath and care, apply Initialiste to clean towel-dried hair. 2 pipettes for fine hair, 3-4 pipettes for thick hair.
– Distribute evenly throughout the scalp. Gently massage scalp with fingertips using circular movements. Leave-in formula.
TECHNOLOGY
Located in the deepest layers of the skin and the hair follicle, stem cells are a powerful source of growth and regeneration. A result of 24 years of research and 10 publications, Initialiste is a revolutionary formulation based on stem cell research and plant-based biotechnology.
[Complexe Regenerateur® ]
An exclusive combination of ingredients to protect stems cells and their environment.
– Native Plant Cells
Maintain and optimise the follicle's regenerative functions
– Antioxidant Polyphenols
Protect stem cells from oxidative stress
– SP 94 Glucolipids
Reinforce the hair fibre and optimise hair growth
– Ceramides
Strengthen and reinforce the fibre